A Lighthouse for the Future of Work
WBCSD is exploring a vision to inspire, inform and align business innovation for a sustainable future of work.
WBCSD CASE STUDIES
WBCSD envisions a Future of Work in which people work to thrive personally, professionally and as active members of society
WHAT THIS MEANS FOR A PERSON'S LIFE…
SECURITY
We are financially secure and free of anxiety for our livelihoods.
WELL-BEING
We enjoy physical and mental well-being
EMPOWERMENT
We are empowered to shape our lifestyles and career paths.
PURPOSE
We feel proud of our personal accomplishments and contributions.
WHAT THIS MEANS PRACTICALLY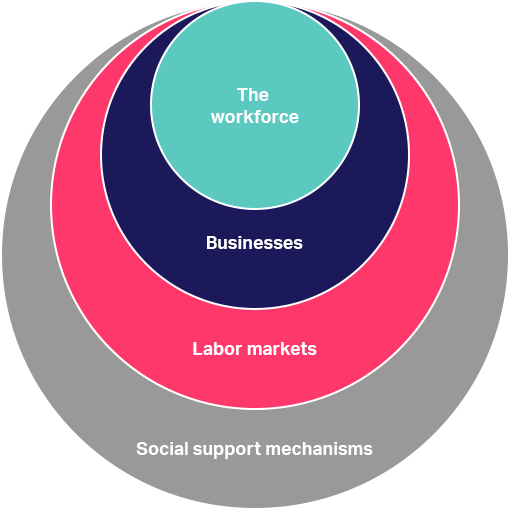 People have access to fair pay and financial security and are free of anxiety for their livelihoods. People are able to provide for their families, invest in their dreams, and contribute to their communities. Individuals are empowered to develop the skills needed for work, life and future employability. They can access the education and training needed to perform their work well and build opportunities for personal and professional growth.
Businesses are transparent, inclusive and connected. They provide meaningful work that contributes to society, and opportunities for people and economies to grow. Workplaces are safe spaces that protect and nurture people's physical and mental well-being and encourage them to build meaningful connections.
The labor market is adaptive, inclusive and geared towards providing opportunities for all.
A strengthened social contract builds trust, alignment and cooperation between individuals, governments, business and society.
A collaborative approach will be needed to respond to the systemic challenges we face. Partnerships with governments, experts, educational institutions and civil society have a stake in shaping solutions that create value for people and society.
Policies & Incentives (financial & non-financial)
Education systems and institutions
Copyright © 2018
World Business Council for Sustainable Development
All rights reserved | Privacy Policy
CONTACT
MAISON DE LA PAIX
Chemin Eugène-Rigot, 2B
Case Postale 2075
CH-1211, Geneva 1
Tel: +41 (22) 839 3100
Fax: +41 (22) 839 3131