Context for the Future of Work
Our analysis provides a common entry point for a business audience to cut through the noise, navigate the issue and engage with the current debate.
VIEW OUR ANALYSIS
Work is facing complex disruption in the face of three inter-connected forces:
Rapid technological evolution
Socio-economic polarization
Changing workforce expectations
Emerging technologies are rapidly transforming the world of work…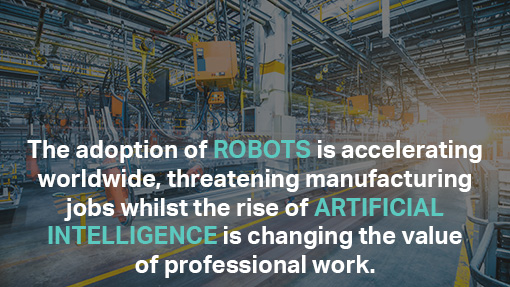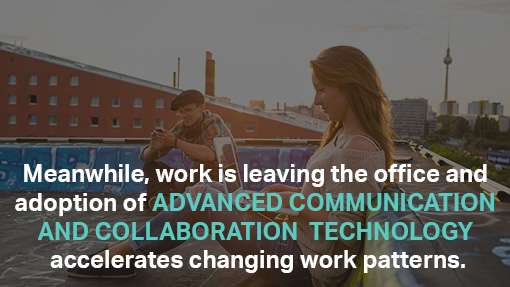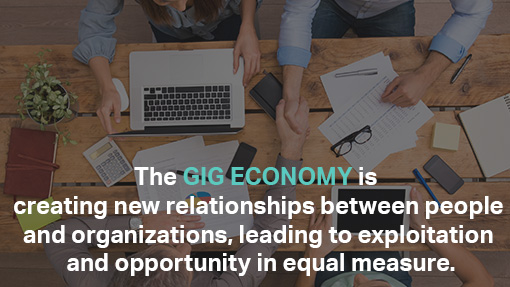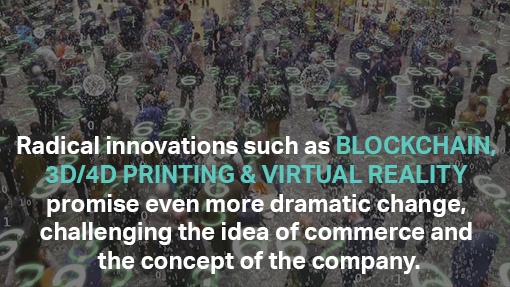 … all within the backdrop of global socio-economic polarization…
CLIMATE CHANGE:
The shift to a green economy highlights the need for a just transition.
INCOME INEQUALITY
Automation will disproportionately affect vulnerable groups.
DIGITAL DIVIDE:
The global skills gap is at an all time high – and is likely to rise.
DEMOGRAPHICS:
Population growth and aging leads to labor surplus and shortages.
(DE-) GLOBALIZATION:
Lower technology costs are reshoring manufacturing jobs, but talent can come from anywhere.
MIGRATION
Migrants bring both opportunities and challenges for labor markets and social contracts.
URBANIZATION
The relentless rise of megacities increases the social and political divide.
POLITICAL BACKLASH
Protest is rising against globalization, multilateralism, consumerism, capitalism and even democracy.
… making it harder to meet people's shifting expectations.
INCOME SECURITY:
Employment preferences vary across the globe, but the desire for income security is universal.
EQUITY:
Fairness between colleagues, in companies and in society is fundamental.
MEANING:
People increasingly seek meaning in their work..
COMMUNITY:
..as well as a sense of engagement with others in that work.
GROWTH:
People value personal and professional growth…
OPPORTUNITY:
…employers that support continuous opportunity…
FLEXIBILITY:
…greater flexibility on where and when to do that work, as well as work-life balanc..
AUTONOMY:
..and greater freedom on how that work is done.
SOCIAL CONCERN:
People are worried about the impact of technology on society..
EMPLOYMENT CONFIDENCE:
..but feel confident about their own future employment prospects.
TRUST IN BUSINESS:
People trust business, but have high expectations.
If businesses don't act, they will be unprepared for these challenges and unable to realize the opportunities of building a stronger business in a thriving society.
Copyright © 2019
World Business Council for Sustainable Development
All rights reserved | Privacy Policy
CONTACT
MAISON DE LA PAIX
Chemin Eugène-Rigot, 2B
Case Postale 2075
CH-1211, Geneva 1
Tel: +41 (22) 839 3100
Fax: +41 (22) 839 3131